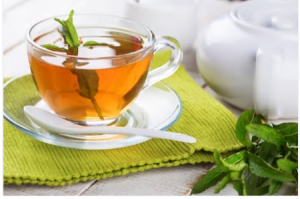 Lavender is one of many beautiful and fragrant herbs that attracts butterflies and bumble bees, and will repel moths, mosquitos, and flies from the garden. Lavender flowers (buds) can be used as a tea for their relaxing and calming effect (Basch).
There may be as many as 160 active constituents in lavender including linalool (a terpene), linalyl acetate, B-caryophyllene, B-myrcene, alpha-ocimene, B-ocimene, and terpinen-4-ol. Calcium, iron, and vitamin A are also found in lavender.
We're still learning about lavender's pharmacology from animals. In a study by Harada et al, adult male mice were tested using a linalool scent delivered in a light/dark box. Some of the mice in the study had the sense of smell (active group) and others did not (control group). The mice in the active group that were exposed to the linalool scent over 30 minutes experienced anxiolysis. The control group did not. The positive effect in the active group was negated by flumazenil, a medication that reverses the effects of benzodiazepine anxiolytics like Valium, Ativan, and others. The authors concluded that the linalool effect was mediated by GABA transmission via benzodiazepine-responsive GABA receptors.
Lavender may also work by modulating T-type calcium channels in the body, providing yet another possible therapeutic effect that deserves more research in humans. Calcium channels play a role in neuron excitability, neuroprotection, sensory processes, sleep, and pain (Alaoui, Ayaz, Kopecky).
Lavender side effects may include sun sensitivity, headache, and allergic reaction, among others.
If you are consuming lavender tea, taking lavender dietary supplements, or using topical lavender essential oil in aromatherapy, please be sure to first discuss the appropriateness of this herb/essential oil with your health care provider or pharmacist to determine if it is safe and right for your health goals. This includes a thorough review by your trusted healthcare professional of any drug/lavender interactions and potential side effects.
For more information please visit https://www.drugs.com/mtm/lavender.html and https://www.gardenmandy.com/types-of-lavender-plants/.
Recipe for Lavender Tea
Add the 1 Tbsp fresh, or 1-2 tsp dried, lavender flower buds to a teacup (mug).
Bring 8 oz – 10 oz water to a boil.
Pour the hot water over the lavender flower buds, steep for 5 minutes. Place a small plate or lid over the top of the cup to keep the steam inside, further infusing the tea.
Remove the plate (lid) from the cup and add honey or agave, sweetening to taste.
Drying Out Fresh Lavender Flowers
If you want to dry out fresh lavender flower buds from your garden, harvest the lavender just before it fully blooms, and cut the flowering stalks right above the leaves. Bind the stalks with the buds into bundles and hang them upside-down in a dark, cool, and dry place for 2 and 4 weeks. Lightly brush the stalks and the lavender buds should fall off, to be stored and used later for tea.
References
1. Alaoui. Modulation of T-type Ca2+ channels by lavender and rosemary extracts. PLoS One. 2017 Oct 26;12(10): e0186864.
2. Ayaz. Neuroprotective and anti-aging potentials of essential oils from aromatic and medicinal plants. Front Aging Neurosci 2017; 9:168.
3. Harada. Linalool odor-induced anxiolytic effects in mice. Frontiers in Behav Neurosci 2018;12: Article 241.
4. Kopecky. T-type calcium channel blockers as neuroprotective agents. Pflugers Arch 2014; 466 (4): 757-765.
5. Basch. Lavender (Lavandula angustifolia Miller). J Her Pharmacother 2004;4: 63-78.